Nightmarch: Among India's Revolutionary Guerrillas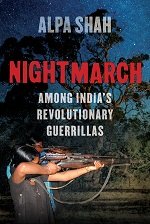 Author: Alpa Shah (Newnham 1994)
Publisher: University of Chicago Press
Shortlisted for the 2019 Orwell Prize for Political Writing.
Shortlisted for the 2019 New India Foundation Book Prize.
A first-hand account of India's widespread leftist insurgency, and the state's brutal response.
In one of the world's most intractable and under-reported rebellions, the Naxalites have been engaged in a decades-long battle with the Indian state. Presented in the media as a deadly terrorist group, the movement is made up of Marxist ideologues and lower-caste and tribal combatants who seek to overthrow a system that has abused them.
In 2010, just as the Indian government was stepping up its counterinsurgency operations in the country's guerrilla affected areas, Alpa Shah set out on a seven-night march with a guerrilla platoon across the same territory, walking 250 kilometres. An anthropology professor at the London School of Economics, she wanted to understand how and why, against the backdrop of a shiny new India, the country's poor had shunned the world's largest democracy and united with revolutionary ideologues.
Dressed as a man in an olive-green guerrilla uniform, Alpa was the only woman and the only person not carrying a gun. Her gritty journey reveals how and why people from very different backgrounds come together to take up arms to change the world but also what makes them fall apart.
Unfolding like a thriller and brought to life by Alpa's years of research and immersion into the daily lives of the tribal communities in a Naxal stronghold, Nightmarch is a reflection on economic growth, rising inequality, dispossession and conflict at the heart of contemporary India.
A New Statesman Book of the Year 2018, chosen by Neel Mukherjee.
A History Workshop Radical Book of the Year 2018, chosen by Yasmin Khan.
A Scroll India Book of the Year 2018, chosen by Hansda Sowvendra Shekhar.
A Hindu 2018 Year in Review book.
A Hong Kong Free Press Best Human Rights Book October – December 2018.
The Public Anthropologist Must Read Book of September 2018.
Buy online from