Gold Medal Flapjack, Silver Medal Life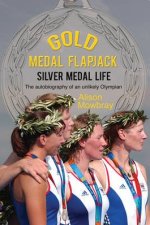 Author: Alison Mowbray (Caius 1993)
Publisher: Troubador
"Being an Olympian was not my first choice of career, or even my second."
Alison Mowbray wasn't a sporty kid and thought that being good at sport was a pre-requisite for going to the Olympics. She thought she might be a doctor, a teacher, a Blue Peter presenter or maybe the first ever female naval submariner. "Then at 18 I discovered rowing. From that point on, for the next 15 years, I didn't have a choice anymore." You don't choose to go to the Olympics. You lay out everything you have and let the Olympics take it - no deals, no bargains, no questions asked, no hope of return. Maybe it will be enough and the Olympics will choose you, and maybe it won't. If you thought about the number of things outside your control between yourself and your dream, you'd never start. You just think about the things you can do, the things you can control and you start doing them and keep doing them until you get there or until control is wrested from you. That's what you do. That is this book. "I never planned to be inspiring so really this is just the story of how I did the things I love, the very best I could do them, and how very far it took me. And if you too were not a sporty child, and you've never raced an Olympic final, maybe I can take you there..."
This is a Silver medal life of achievement, addiction, alcoholism, anorexia and Alzheimer's. But a Gold medal story of passion and perseverance and not letting anything or anybody get between yourself and your dream. Gold Medal Flapjack, Silver Medal Life is a fascinating sports autobiography that will appeal to fans of rowing, the Olympics and sports psychology. Written 8 years after that medal winning moment, it also deals with what happens next in an athlete's life. There are many themes that will particularly resonate with women, and anyone who enjoys cooking will love Alison's flapjack recipe and the many food references throughout the book. This is a book for people who love sports autobiographies and for those who never usually read them.
Buy online from