Glynn Thomas: East Anglia – A Different Perspective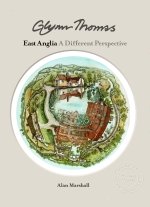 Author: Alan Marshall
Publisher: Mascot Media
Cambridge-born printmaker Glynn Thomas uses an ancient technique and an eye for detail to produce highly original images of familiar places. Etching with acid on copper plates, he creates unique interpretations of city scenes and rural locations that are packed with interest. Although now living in Suffolk, Glynn's childhood and art school education in Cambridge have made the city one of his favourite subjects.
Glynn Thomas: East Anglia – A Different Perspective, the first book to detail his life and work, relates how Glynn was raised in a working-class home close to the Cam. The streets around his parents' house were his playground, including nearby Midsummer Common and Jesus Green.
From 1962-67, he attended Cambridge School of Art (now part of Anglia Ruskin University), where his tutors included Walter Hoyle, a close friend of the great illustrator Edward Bawden, and an exceptional printmaker in his own right. Over the intervening years, Glynn has honed his skill in copper etching, creating hand-coloured prints of the most striking buildings and locations throughout East Anglia and beyond.
The new book features around 120 of his etchings, with 22 Cambridge prints including 'X II III Time IV Tea', immortalising the 19th-century orchard and tea garden on the outskirts of the city; 'Cambridge Courts', a panoramic view of some of the great colleges; and 'From King's College Chapel', virtually the entire city at a glance.
Glynn Thomas: East Anglia – A Different Perspective was shortlisted in the Art & Photography category of the EDP-Jarrold East Anglian Book Awards 2012
Buy online from