Future Perfect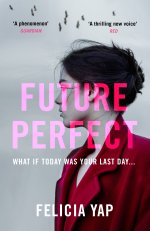 Author: Felicia Yap (Sidney Sussex 2003)
Publisher: Wildfire (Headline UK)
What if today was your last day...
A bomb has exploded during a fashion show, killing a beautiful model on the catwalk. The murderer is still at large... and he may strike again. Yet this is the least of Police Commissioner Christian Verger's worries. His fiancée Viola has left him. He has to keep his tumultuous past a secret. To make things worse, his voice assistant Alexa is 99.74% sure he will die tomorrow.
Moving from snowy 1980s Montana to chic 1990s Manhattan to a drone-filled 2030s Britain, FUTURE PERFECT is an electrifying race to solve a murder before it's too late. Yet it is also a love story, a riveting portrait of a couple torn apart by secrets, grief and guilt. A twisted tale of how the past can haunt a person's future and be used to predict if he will die... or kill.
A super-smart speculative literary thriller that explores the nature of identity and fate, in a world set in the near future, where our sense of who we are is inextricably linked to the digital footprints we leave... can we be imperfect human beings in a world defined by technology?..
Buy online from