From the Cam to the Zambezi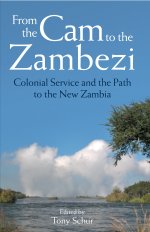 Author: Tony Schur (Editor)
Publisher: The Radcliffe Press imprint of I B Tauris & Co Ltd
From the Cam to the Zambezi records the experiences of a group of young people who first met in Cambridge, and then went on to live and work in Africa during a time of constitutional change and historically important events.
The book is set in Zambia (formerly Northern Rhodesia) and covers the last few years of colonial rule and, in some of the chapters, the early years of the new nation after it gained independence in 1964.  The authors are individuals, who attended the 1961-62 Overseas Services Course held in Cambridge, and three of their wives.
The stories reveal the kind of life the participants lived, often in remote areas without electricity or telephones, with little company and where supplies had to be ordered from shops which were often hundreds of miles away.  They also describe the responsibilities they were given as District Officers at a relatively young age, which ranged from monitoring the work of local councils and courts to building bridges, and from promoting economic development to maintaining law and order.  And, importantly, they include first-hand accounts of significant events including the pre-independence elections, the uprising by members of the Lumpa church, which led to several hundred deaths, and political developments in the first few years of the new Zambia.
One of the chapters consists of extracts from the writings of the late Valentine Musakanya, who attended the Cambridge course and was later Secretary to the Cabinet and Governor of the Bank of Zambia.  Arrested in 1980 he was sentenced to death, before being acquitted on the grounds that the only evidence against him was a confession which had been obtained by torture.
Each of the stories is written in the author's own words.  Some are in the form of light-hearted anecdotes; others are more straight-forward descriptions of life in rural Africa and the various events which took place.  The book also includes an introduction, a glossary and three appendices containing information about Zambia, about the period of colonial rule and events after independence, and about the Cambridge course. The foreword to the book is written by Baroness Chalker of Wallasey, a former Minister for Overseas Development in the UK Government.
Publication date:
Wednesday 15 October 2014
Buy online from