For Her Good Estate The Life of Elizabeth De Burgh, Lady of Clare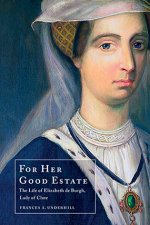 Author: Frances Underhill, Jennifer Ward, Margaret Smith (Clare Hall 1977), Jacqueline Tasioulas, Paul Binski, Claire Barnes (Clare 1976)
Publisher: Moonwort Press
Elizabeth de Burgh showed feisty spirit in adversity and imprisonment, war and plague – and she and her friends were influential patrons of books and all arts while English craftsmanship was at its finest. Her legacy includes Clare College and Clare Hall in the University of Cambridge, and a treasure trove of records illuminating the contrasting reigns of her uncle Edward II and cousin Edward III.
Her early life was tumultuous: an arranged marriage; an abduction leading to a clandestine second marriage; a forced marriage to a royal favourite who died a traitor. At age 26, she had been widowed three times, with a child from each marriage. She suffered arrest, confinement and asset confiscation during years of civil war, before regaining control of her estates after Queen Isabella's invasion. Empowered by a vow of chastity to ensure her independence, she thrived in her long widowhood as a capable administrator, an engaged mother and grandmother, with a talent for enduring and multigenerational friendship. She became a shrewd philanthropist, founding the Franciscan friary at Walsingham and endowing Clare College, Cambridge.
Frances Underhill's biography shows how Elizabeth overcame gender barriers to attain both prestige and lasting influence. Additional essays in this edition explore the events of 1326, and Elizabeth's later place in the network of artistic patronage at a time of enduring architectural treasures, fine textiles and beautiful manuscripts. Centuries later, her ringing introduction to the Clare College statutes continues to inspire, and new generations of scholars pursue the Precious Pearl of Learning.
Buy online from