Finding the 'Ring of Truth'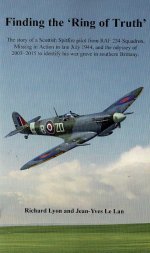 Author: Richard Lyon (Fitzwilliam 1967) and Jean-Yves Le Lan
Publisher: Janus Publishing Ltd.
F/O Ernest Russell Lyon, aged just 21, was shot down in his Spitfire near Ploemeur in France in July 1944 and buried by the Germans in an unidentified grave in Guidel Cemetery.
This is the story of research by Richard Lyon, decades later, aided by local research by French civilians, to establish that the grave was indeed that of F/O Lyon, in the process changing the Standard of Proof (in existence since the end of WW1) required by the authorities for formal grave recognition from "Beyond all Reasonable Doubt" to "By Clear and Convincing Evidence".
Foreword by Air Marshal Sir Richard Garwood KBE CB DFC RAF
I have been delighted to be part of Richard Lyon's campaign to have the final resting place of his uncle, Flying Officer Russell Lyon, finally recognised.  This is not only a story of a brave Spitfire Pilot but a story about a family's endeavour to make sure that their relative did not go unrecognised for his sacrifice, in an unnamed grave.  Like many others, the more you understand about this story then the more compelling it becomes. I have no doubt in my mind that Russell Lyon, and gave his life on the evening of 27th July 1944, lies below the white Commonwealth War Grave headstone now inscribed with his name in the Guidel Communal Cemetery.
This has been a true David and Goliath epic with Richard having to challenge the MOD over an extended period of time with true grit and persistence to achieve what is without doubt the right answer. Organisations do not always like to be challenged but I knew from the very first meeting I had with Richard Lyon that if the MOD thought a comforting letter about his uncle with the wrong answer was going to impress him then they had unfortunately miscalculated. Following setback after setback Richard's persistence won through when an MOD high level review panel agreed that the grave at Guidel should now be marked with
Russell's name. I was fortunate enough to attend the re-dedication ceremony in October 2015 having visited the crash site, the roundabout propeller-memorial and the site of the German Flak battery that shot the Flying Officer down; I was delighted to meet the French researchers, Jean Robic and Jean-Yves Le Lan, who have devoted so much time and energy into this project. I congratulate Richard Lyon and his family for persisting against the odds to get this well-deserved recognition for Richard's uncle's grave.  I believe in turn, Russell would be pleased to think that all these years' later people care about the sacrifice that he and so many other young men ultimately made for this Country.
Review:
"Following 'The Few', who fought to defend freedom in the British Empire & Commonwealth's 'Finest Hour', Russell Lyon deserved nothing but the best memorial, and through his family's tireless efforts he has finally received it."
Professor Andrew Roberts, Historian, Author: 'Churchill: Walking with Destiny'
Buy online from