Deathday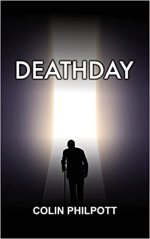 Author: Colin Philpott (Trinity 1976)
Publisher: Fisher King Publishing
'Deathday' is a piece of speculative fiction set in 2045 England, a country where euthanasia is not just legal but compulsory. Severe economic depression in the wake of the Pandemic and Brexit, a collapse in the care system and inter-generational conflict had changed attitudes to death and old age. Ten years earlier, a right-wing Government, supported by the shadowy League of Youth, had won a majority in Parliament for the mandatory termination of life at the age of ninety. A decade later, people who still accept the law plan for 'Deathday Parties', 'Evaders' try to escape abroad, and 'Remainders', people already over ninety and who were spared at the time the law came in, live in colonies in rundown seaside resorts. Meanwhile, the young King plots with politicians opposed to the laws which are enforced by the sinister National Age Regulation Authority.
The author, a former BBC programme maker and later a national museum director, was moved to write the book because of family experiences and through meeting hundreds of older people in his work as a volunteer with a food delivery and befriending service.
Cambridge does feature in the book - Robinson College no longer exists because the University has contracted in size and it has been converted into a care home where the father of the then Prime Minister is living!
 
Buy online from