Deadly Shores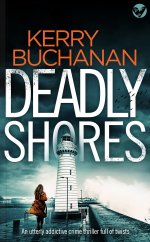 Author: Kerry Buchanan (Jesus 1985)
Publisher: Joffe Books
Compelling crime thriller featuring detectives Asha Harvey & Aaron Birch. Two ships in the night. Another dead body. No safe harbour. A wave lifts the stern of the boat, rigging groans in protest and a crash comes from down below, as the wails of the cargo rise above the howl of the storm. It's a wild Christmas Day on the rugged Northern Irish coast. But there's no time for turkey and pud with the family for Detectives Harvey and Birch. DS Aaron Birch leans into the wind and driving sleet. Thick, scudding clouds make the streets of Lisburn almost as dark as early evening. Then he gets the tip-off. Smugglers coming into a boatyard in Bangor.
Birch and DI Asha Harvey head to the marina. They expect to find drugs. But the evidence points to something far, far worse. When one of the couriers is found murdered in his hotel room, they realize they are facing in a deadly storm of corruption and criminal depravity. Will they sink or swim?
Fans of BBC's Line of Duty, Joy Ellis, Lynda La Plante, Tana French, Rachel McLean, Claire McGowan, Angela Marsons, Steve Cavanagh and Helen H. Durrant will devour this new character-driven page-turner by one of Northern Ireland's hottest talents.
Buy online from