Creating The World We Want to Live In: How Positive Psychology Can Build a Brighter Future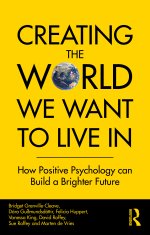 Author: Felicia Huppert (Darwin 1968) and co-authors
Publisher: Routledge
How to act wisely to address personal, collective and global challenges and create a fairer, more sustainable world is the theme of newly released book Creating The World We Want To Live In: How Positive Psychology Can Build a Brighter Future.
Written by eminent positive psychology researchers and practitioners, the book is a practical and easy to read resource for anyone interested in improving the wellbeing of themselves, their communities, society, or the planet. The book was written to inspire individual and collective action to build a better world, drawing on science and success stories from Positive Psychology. The way we think, feel and act has a profound effect on our personal wellbeing and also creates a ripple effect on those around us and the world we live in. The current ways we are addressing big social and environmental issues is not working. By moving our thinking from 'me' to 'we' and shifting our focus from short term self-interest to long term benefit for all, we have the opportunity to develop happier individuals, a fairer society and a healthier environment.
The book begins by explaining five principles of psychological wellbeing and the importance of developing three core capabilities – an open mind, an open heart and clear thinking – to enable us to make positive change happen.
What the pandemic has shown us is that society is more than capable of acting collectively in the face of grave danger. Movements such as Black Lives Matter and the recent Women's March 4 Justice also demonstrate what can happen when we take collective and cooperative action to challenge inequality and advocate for a fairer society where everyone has the chance to flourish.
Offering more than just inspiring concepts, the authors provide case studies, reflection questions and practical suggestions on what we can do individually, and in families, schools, communities and government to build a brighter future. This timely publication is written by highly respected leaders in the field of wellbeing science. They start by shining the spotlight on how to flourish throughout different life stages and life domains including education, work, health, leisure and community. The authors also share ideas for tackling broader societal change, covering media, society, economics, politics and the environment.
Providing a solution-focussed approach to making a positive difference, this important book shows how small changes, beginning with individuals and spreading to collective organisations and the wider world, can have a profound positive impact. It shows how, in turn, positive changes in the wider world can spread back to improving wellbeing in communities and individuals.
Creating The World We Want To Live In: How Positive Psychology Can Build a Brighter Future is a must-read for those feeling helpless about how to effect change in this seemingly crazy world. Change is never easy, and we may first need to change ourselves. But when people come together and act collaboratively - with wisdom, courage and realistic hope - we can create a flourishing, fair and sustainable world.
Buy online from