Common People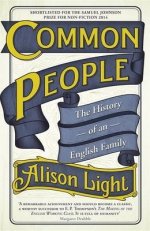 Author: Alison Light (Churchill 1973)
Publisher: Penguin
Family history is a massive phenomenon of our times but what are we after when we go in search of our ancestors? Beginning with her grandparents, Alison Light moves between the present and the past, in an extraordinary series of journeys over two centuries, across Britain and beyond. Epic in scope and deep in feeling, Common People is a family history but also a new kind of public history, following the lives of the migrants who travelled the country looking for work. Original and eloquent, it is a timely rethinking of who the English were - but ultimately it reflects on history itself, and on our constant need to know who went before us and what we owe them.
Shortlisted for the 2014 Samuel Johnson Prize, Common People has been described as a "remarkable achievement...should become a classic." (Margaret Drabble).
"Light writes beautifully...Common People is part memoir, part thrilling social history of the England of the Industrial Revolution, but above all a work of quiet poetry and insight into human behaviour. It is full of wisdom." (The Times Book of the Week).
Buy online from