College Chapels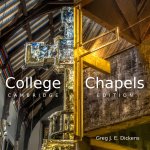 Author: Greg Dickens (Selwyn 2004)
Publisher: Project and Management Solutions
Veterinary student and photographer Greg Dickens has here collected the images from his hugely successful exhibition into an accessible and beautiful hardback volume.
Striking upon the notion that a technique used in digital x-radiography could be modified for use in architectural photography, Dickens began a four-year project to capture the chapels in a level of depth and detail never before attempted. After mounting the images as an exhibition, he has worked with the Deans and Chaplains of every college to present the collection in this hardbound volume. Each photograph used in the book has been chosen to highlight the differences in mood, tone and style between these buildings.
To support the photographs, the Deans and Chaplains have each kindly submitted an account of their personal interpretation of each space and Dickens has commented on the individual optical challenges presented by the chapels. Together, text and images provide a stunning visual document and represent the chapels in a thoughtful, beautiful and, sometimes, breath-taking light.
Publication date:
Saturday 1 September 2012
Buy online from