City of Beasts: How animals shaped Georgian London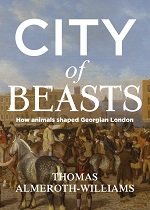 Author: Thomas Almeroth-Williams
Publisher: Manchester University Press
By the early 1800s, an estimated 31,000 horses were at work in and around London, while around the same number of sheep and cattle were driven through the city's streets every week. No other settlement in Europe or North America had ever accommodated so many large four-legged animals, or felt their influence so profoundly.
City of beasts reveals the extraordinary contribution that horses, cattle, sheep, pigs and dogs made to the world's first modern metropolis, as well as the challenges which they posed. Following in their hoof- and paw-prints, this book reappraises London's role in the industrial, agricultural and consumer revolutions, as well as key aspects of the city's culture, social relations and physical development. In doing so, it calls for animals to be accorded agency and integrated into social and urban history.
City of beasts focuses on tangible evidence of dung-bespattered interactions between real people and real animals drawn from a wide variety of primary sources. As a result, it offers new insights into the lived experiences of Georgian Londoners, as well as the workings and character of a city about which we still have much to discover.
'Thomas Almeroth-Williams adds vibrant colour to the landscape of Georgian London through his cast of horses, jackasses, livestock and watchdogs large and small. Beautifully written, attentive and thoughtful, City of beasts is alive not only with the sights, sounds, smells of the eighteenth century metropolis, but also with its animal voices.'
Lucy Inglis, author of Milk of Paradise
'Animals made eighteenth-century London work. From guard dogs to drays, they provided the 'horse power' that made society turn. Almeroth-Williams interrogates a lost world of human-animal relations to expose something quite new. This book will change how you see the pre-industrial world and every mutt you meet on the street.'
Professor Tim Hitchcock, Co-Director of The Old Bailey Online
Buy online from