Chasing Butterflies in the Sunlight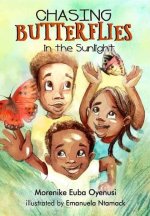 Author: Morenike Euba Oyenusi (Jesus 1985)
Publisher: Paradise Restored Publishing
"Chasing Butterflies in the Sunlight" describes the joys and innocence of childhood experienced by Ronke, growing up in a beautiful, culturally and racially diverse world on a university campus in Nigeria.
A Nigerian-American mother, Ronke, living in Baltimore, Maryland, with three young children, is somewhat exhausted by being pestered to tell them made up stories every night. In the hope that they will read to themselves, she decides to write them stories loosely based upon her wonderful experiences as a child growing up in the safe, idyllic, and comfortable environment of the university campus.
In the stories, which span seven of her formative years, Ronke learns about her family history, and enjoys many adventures, escapades, and plenty of exciting travel within Nigeria and overseas, until she eventually has to leave her childhood behind.
Buy online from