Caposcripti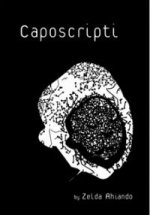 Author: Zelda Rhiando (Clare 1992)
Publisher: Ampersand Press
Modern London. The photographer is a man ruled by two obsessions. First, to take photographs that speak for him. Second, to make the subjects of those pictures speak to him alone. He is not interested in them as people - their banal tales of joy and suffering. His experiments are to uncover the secrets that they don't know they are keeping.
Rewind to Peru in 1851. An explorer is battling to survive in a claustrophobic and unknown world. In flight from modernity he seeks older truths, which he finds in the customs of the Caposcripti.
How these secrets survive, and how the photographer uses them in his terrifying experiments is only the beginning of the journey.
Winner of the £10,000 Kidwell e-book Prize 2012.
Buy online from