BREAKING BOUNDS Six Newnham Lives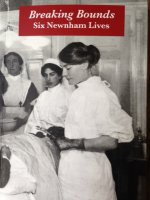 Author: Claire Tomalin, Jenn Ashworth, Margaret Drabble, Sarah LeFanu, Elaine Feinstein, Sue Limb, ed. Biddy Passmore
Publisher: Newnham College
Six leading authors who went to Newnham write about six remarkable women who attended the college in its early years: 
Claire Tomalin on the translator Constance Garnett, who brought great Russian literature to the English;
Jenn Ashworth on the short and troubled life of Amy Levy, poet and feminist, who was the first Jewish student at Newnham;
Margaret Drabble on Amber Reeves, mistress of H.G. Wells but also a gifted writer, lecturer and activist in her own right;
Sarah LeFanu on Majorie [sic] Blandy, one of a handful of English women doctors working in France during the First World War;
Elaine Feinstein on her teacher, Enid Welsford, who exerted a powerful influence on a whole generation of students as Newnham's first Director of Studies in English;
Sue Limb on Peggy Pollard, brilliant linguist, eccentric and mystic, who saved much of the Cornish coastline.
These short biographical essays paint a vivid picture of women's lives during the social and educational upheaval of the late 19th century and the first half of the 20th, and of the college that gave many their first taste of freedom.
Publication date:
Wednesday 12 November 2014
Buy online from