BP Blowout: Inside the Gulf Oil Disaster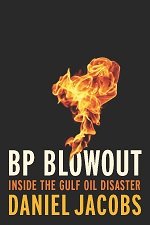 Author: Daniel Jacobs (Trinity Hall 1983)
Publisher: Brookings Institution Press
The story of the worst environmental disaster in american history and its enduring consequences....
BP Blowout is the first comprehensive account of the legal, economic, and environmental consequences of the disaster that resulted from the April 2010 blowout at a BP well in the Gulf of Mexico. The accident, which destroyed the Deepwater Horizon oil rig, killed 11 people. The ensuing oil discharge—the largest ever in U.S. waters—polluted much of the Gulf for months, wreaking havoc on its inhabitants and the environment. Daniel Jacobs tells the story that neither BP nor the federal government wants heard: how the company and the government fell short, both in terms of preventing and responding to the disaster.
Important details about the cause and aftermath of the disaster have emerged through court proceedings and with time. The key finding of the federal judge who presided over the civil litigation was that the blowout resulted from BP's gross negligence.
Buy online from