Boundaries Undermined: The Ruins of Progress on the Bangladesh/India Border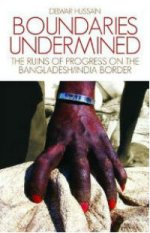 Author: Delwar Hussain (King's 2007)
Publisher: C Hurst & Co Publishers Ltd
When anthropologist Delwar Hussain arrived in a remote coal mining village on the Bangladesh/India border to research the security fence India is building around its neighbour, he discovered more about the globalised world than he had expected.
The present narrative of the Bangladesh/India border is one of increasing violence. Not so long ago, it was the site of a monumental modernist master-plan, symbolic of a larger optimism which was to revolutionise post-colonial nations around the world.
Today this vision and what it gave rise to lies in spectacular ruin; the innards of the decomposing industrial past are scattered across the borderlands. The dream of a topdown, organised state and society has been replaced by a vibrant, market determined, cross-border coal industry that has little respect for the past, people or the environment.
In keeping with these changes, there are new opportunities and prospects too. Social and intimate lives have transformed in unexpected and hopeful ways. While the book explores the relationship between those with a vision for the future and those without, it ultimately seeks to shed light on the communities and places that pay the highest price for the present need to develop.
By focusing on the peripheries, the book at once gets to the contradictions at the heart of the neoliberal condition.
Buy online from