An Architect Speaks: The Writings and Buildings of Edward Schröder Prior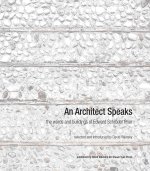 Author: David Valinsky (Fitzwilliam 2003)
E S Prior (1852—1932) is best known today as the designer behind some of the most inventive and uncompromising interpretations of Ruskinian craft architecture that the English Arts and Crafts Movement produced. 
An Architect Speaks presents Prior's fascinating writings for the first time to a modern audience, together with a much wider selection of his buildings than has ever before been published.
Introductory essays examine the ideas and context behind each piece, drawing together themes from across Prior's work and uncovering a much more complex output than might be assumed from his 'Arts and Crafts' associations. Prior's buildings are extensively illustrated with new and contemporary photographs and drawings.
The book is published as a limited edition of 500 copies, each signed and numbered in ink.
Prior's essays are woven into a fascinating web with the commentaries on both them and on his buildings... a really brilliant book!
- David Watkin
Purchase methods
The book is available from David Valinsky directly with free P&P by writing to anarchitectspeaks@gmail.com, or online from Heffers and the RIBA bookshop (see below).
Buy online from