A Dual Perspective: The German in an English Judge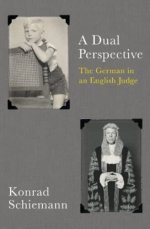 Author: Konrad Schiemann (Pembroke 1958)
Publisher: Whitefox Publishing Ltd
The inspirational story of a young German orphan who escaped a war-torn Berlin to rise to the highest ranks of the European legal system. When Konrad Schiemann escaped his home in Berlin to begin a new life in England, he didn't know what life awaited him there. An orphan who had lost both of his parents at the end of World War Two, he reached this new country to start again with the help of relatives. Grown up, he decided to practise as a barrister in England and became a judge of the Appeal Court and finally of the European Court of Justice. After having his family and life in Germany torn apart by conflict, he forged a career around his desire to help in the construction of a peaceful Europe.
It was only late in life that he came to realise the extent of the extraordinary family into which he had been born. A great-great grandfather who presided over 5 parliaments and the first German Supreme Court, a great-grandfather who was a friend of the last Kaiser and a grandfather who joined the Nazi Party despite the opposition of two members of the family later recognised by Israel as Righteous among the Nations for saving Jews from the Nazis. He learned of his mother's close acquaintance with one of the plotters of the assassination attempt on Hitler and it became evident that there was a powerful family history to be traced, and a story to be told.
Piecing together extensive correspondence from the war years, A Dual Perspective is the moving memoir of a German orphan who built a new future away from home, and the story of the family he loved and lost along the way.
Publication date:
Thursday 10 November 2022
Buy online from