40 Minutes Studies From the Eyes of the Masters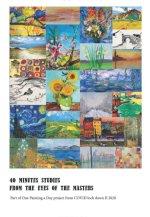 Author: Yangyang Hou (Queens' 2000)
Publisher: Independently published
24 works of masters broken down into detailed steps with YouTube videos so you can make your own version at home. On December 21 2020, instead of Santa, we got Lockdown II in London. Looking at the grey British sky outside, anyone who has a 3 year old and two 65 year olds all together would know how dark this winter would be. Crying solved nothing, so I decided to take things the positive way and launched a little project of "One Painting a Day Keeps Depression Away". I gathered some friends who were on the same road of desperation with little monsters, and I taught painting for free for 40 minutes everyday, every 74 days until school reopened in March, except for 2 days only - Christmas day and Chinese new years eve. We made more than 700 paintings.
The first part of the project was studying work with vivid colours by the greatest masters only. 24 works which include 3 on Van Gogh, 5 on Monet, 2 on Gauguin, 2 on Kandinsky, 1 on Klimt, Cezanne, Paul Klee, Derain, Hockney, Chagall, Turner and a few more on the most valuable Chinese artists Wu Guanzhong and Zhou Chunya. Every painting was done in around 40 minutes and I decided to put them together in a book to help anyone else who may also want to follow a self therapy journey of beautiful colours.
This book contains 24 paintings from masters that we studied, along with detailed guidance of the key elements and method, as well as a display of works produced by the amateurs. If my 3 year old monster (with some instructions and good mood) and my 65 year old mother can try to paint, anyone can do it!
Buy online from