15-Minute STEM Book 2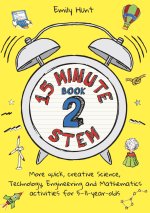 Author: Emily Hunt (Hughes Hall 2009)
Publisher: Crown House Publishing
15-Minute STEM Book 2 offers a stimulating selection of easy-to-resource STEM activities designed to engage and inspire young learners.
Full of engaging and practical ideas, this innovative resource builds on the success of Emily's 15-Minute STEM and reassures teachers and parents that they don't need to be experts to deliver high-quality STEM education.
Each of the 40 activities includes step-by-step instructions, takes just 15 minutes to complete and can be resourced from everyday materials found in the classroom or at home. This means that, with minimal preparation, teachers and parents can slot these cross-curricular activities into an otherwise busy day simultaneously broadening children's learning and piquing their curiosity about the world around them.
The activities make connections to real-world scenarios and have been linked to conceptually similar STEM-related careers all of which are individually profiled in a glossary at the back of the book. The practical, problem-solving element of each activity offers a great way for children to develop important soft skills such as creativity, critical thinking and spatial awareness.
Buy online from