Alumni on the frontline
While lots of us have spent the past few months locked away at home, many members of our worldwide alumni community have been on the frontline in the fight against COVID-19. Read stories from medical professionals, philanthropists, and scientists who have contributed to efforts against the pandemic in a variety of contexts. 
Beth Glanville (Homerton, 2002)
I am a Psychotherapist with Transport for London, where myself and my colleagues work therapeutically with many front line workers. Our usual clinical remit is to deliver therapeutic interventions to employees following incidents of trauma at work, but since the pandemic we are also supporting staff experiencing significant mental distress at this time. Typical referrals since lockdown commenced include those struggling with increased anxiety and/or depression; those who have experienced traumatic loss due to COVID-19; individuals who have been assaulted, including spat at, while on duty, and those experiencing re-triggering of previous trauma. I am also co-editor of the online journal Contemporary Psychotherapy. Our upcoming edition will include the section 'Reflections on working at the time of COVID-19', where psychotherapists share experiences of the impact of the pandemic, and remote working, on their practice, and potential implications for the future of their own work, and for our profession overall.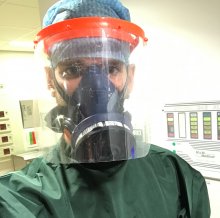 Dr David Firth (Trinity, 2009)
I am a junior doctor training in Emergency Medicine. I recently completed a rotation in Intensive Care at Peterborough City Hospital in February. At the end of March I was asked to come back to Intensive Care and I worked an emergency rota on a few days' notice. We have been running two intensive cares instead of one, now split into patients with and without COVID-19. The struggles have been abundant, and include wearing very uncomfortable Personal Protective Equipment (PPE), working most weekends, frequent night shifts, and living alone in lockdown. I would say the hardest part for everyone is telling families bad news over the phone, including that we would not be able to let family visit dying patients. On a positive note, the team I work with has been inspiring, especially the nurses who are often working under pressure and outside of their comfort zone.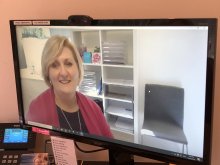 Associate Professor Mary Louise Hull (St Edmunds, 2006)
In Adelaide, Australia, public and private hospital services were quickly amalgamated and clinicians repurposed to combat the huge numbers of anticipated COVID-19 cases. All teaching, elective surgery and public outpatient services ceased. We worked from home, consulted by zoom and had teams on site. We couldn't find hand sanitiser, toilet paper and cleaning equipment, while local manufacturing was rapidly ramped up. Social distancing and online shopping was the norm with a daily walk keeping us sane. After 440 people were infected, 4 people died, and 111,886 tests were done - no new cases occurred and eventually no one was infective. The coffee shops and schools opened, takeaways were available and we could go shopping without being scared of catching COVID. People looked after each other - not one health worker died. We are very thankful that we can work and live safely in our local economy.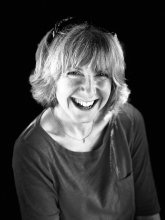 Dr Philippa Young (née Cantrell) (Queens, 1985)
As a consultant Breast radiologist during COVID-19, I have had to reorganise breast cancer services taking the clinics off from NHS COVID hospital sites to other medical facilities. Trying to maintain capacity for urgent cancer referrals has been a real challenge. Plus we remain very concerned that the cessation of the cancer screening programmes leading to later presentations of cancer cases and detrimental long term outcomes. The virus is having far-reaching effects beyond the infections it produces.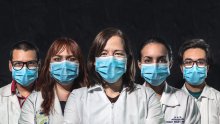 Karina Acevedo-Whitehouse (Wolfson, 2001)
When lockdown began, I figured I would catch up on writing. Instead, I became part of project to detect asymptomatic carriers of SARS-CoV2 to help reduce the epidemic. We designed a highly specific test that detected even little copies of the virus at a fraction of the cost of the official test, which was extremely limited in the national health system. Together with an 83-strong team of researchers, students, and alumni, we have run more than 5000 free tests and detected 450 positive cases. By detecting these infections early, we have helped avoid 30000 infections of which 6000 would have needed hospitalization and 1080 deaths. Despite its high population-density, ours is still one of the states with fewer cases in Mexico. The experience has been overwhelming, exhausting, and rewarding. I am proud to be a part of this effort. Every life saved makes the effort worthwhile!
Dr Ivan Wong FRCA (Christ's, 2005)
Since the first COVID-19 patient was admitted to Northwick Park Hospital on 3rd March 2020, a further 260 COVID19 patients were admitted to our Intensive Care Unit to date.
COVID-19 causes severe lung infection. Dangerously low oxygen level swiftly develops, which kills in minutes if untreated. To save the lives of these critically unwell patients, we created a dedicated intubation team to provide round the clock intensive care including the use of ventilator. Intubation is a high risk procedure that involves insertion of a breathing tube in the windpipe followed by connection to a ventilator for artificial ventilation. During intubation, patients can develop life threatening complications while doctors are exposed to COVID19 virus.
Our team of over 50 specialists in anaesthesia and intensive care is on duty to provide the right care to anyone who needs it. Together with other medical professionals who work with us, many lives were saved.
Martyn Trotman (Trinity, 1958)
I am helping a small private health centre in Togo where I now live as part of my work with Experts Comptables sans Frontières. The centre is based in a garage attached to a house, but we are in the process of finding the money to buy an adjoining plot of land so we can build a proper health centre. The facility is owned and ran by a nurse/midwife who was inspired to create the centre by the death of her father when she was 9 months old. COVID-19 will see many similar health centres in Africa disappear, as many people are out of work and cannot afford healthcare.