What our Alumni Groups are doing
The University has over 200 volunteer-led Alumni Groups around the world. Find out how they are staying connected to their local alumni community.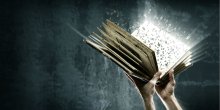 Cambridge Society of Victoria
In April the Cambridge Society of Victoria sent a 'Digital Care Package for Your Brain' to all their members. This fantastic email contained links to a variety of digital content, some of which is exclusivly available to our alumni via our website. In addition to highlighting the recent online edition of Cambridge Conversations webinar, the email also provided the link to a virtual tour of the 'True to Nature' exhibition at our very own Fitzwilliam Museum. The society also featured more local content, including a link to participate in the Australian Ballet's free online classes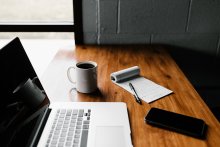 CAMentrepreneurs
On Wednesday 13 May the CAMentrepreneurs, in conjunction with the Cambridge Society of Edinburgh, will be hosting an online meet-up event. This virtual meeting will include a panel discussion and an opportunity to try online networking. The event is open to both current members of both groups, as well as non-members, so please do invite your friends. You can take part in this event by signing up here.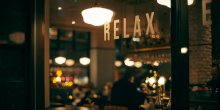 Oxford and Cambridge Alumni Society, Czech Republic
Earlier in April the OCAS, Czech Republic moved their popular Wine & Discussion event online in response to the international lockdown. For this event two 'Oxbridge' graduates, molecular biologist Martin Dienstbier and sinologist Jiri Hudecek, discussed the current coronavirus outbreak, covering it from multiple different perspectives. The society welcomed questions from their attendees in a Q&A, resulting in an engaging virtual discussion.
Birmingham Cambridge Society
In April, the Chair of Birmingham Cambridge Society, Dr Wei Liu, liaised with the current committee members for a on-line meeting to discuss the Covid-19 lockdown as well as potential responses to the outbreak. As a result of their discussions, the Society coordinated a first batch of PPE donations to the University that included face masks, goggles, visors and a temperature gun. These items were generously donated by committee member Sullivan Ye (Darwin College, 2014). 
In addition, the Society is also planning to raise the second batch of PPE for the elder members within the Society catchment area. If this is something you think you would be interested in, please get in touch via the contact form on the Group's website.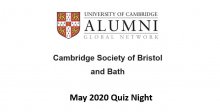 Cambridge Society of Bristol and Bath
The Bristol and Bath group of Cambridge Alumni recently held their first virtual event, a quiz evening, which was enjoyed by all.
Group member Sally Dore (Queens', 1982) has put together a fantastic guide to planning your own virtual quiz night. Drawing on her experience and advice from others (her children were big contributors) Sally's article is sure to give other alumni a brilliant starting point for their own quiz night. The guide is broken down into helpful sections, including some tips from experience,  tackling all the key issues presented by an online quiz night. You can read more about the evening and access Sally's fantastic guide and example questions here.
Following the success, it looks like there will be a continued effort to connect virtually by the Cambridge Society of Bristol and Bath. Plans for the next quiz are underway and member will be updated soon.
Cambridge Society of New South Wales
On Thursday 28th May the Cambridge Society of NSW held their first virtual webinar with Dr Suzy Green on 'The What, Why & How of Positive Psychology'. Dr Suzy Green is an affiliate of the Well-being Institute, University of Cambridge, and is Founder & CEO, The Positivity Institute based in Sydney. This event was the first digital offering of the group's incredibly popular 'Thinking at Twilight' lecture series, which has moved online in light of the ongoing social restrictions.
Dr Green's webinar went very well and the group received positive feedback from its attendees, including those from slightly further afield:  'Thank you for extending the invitation to New Zealand. I found the talk really helpful. I hope we may be able to join in again in the future.'
The group used the online webinar platform Pexip, which was expertly managed by committee member Emily Baxter.  Attendees were able to use the chat box if they wanted to participate with questions and comments, or simply listen and enjoy the webinar. Over 40 group members registered for this event and all registrants have been sent a link to the recording. As is usual for Thinking at Twilight's events, the audience was a mixture of alumni of all ages and backgrounds.
You can watch the recording of Cambridge Society of NSW's Thinking at Twilight 'The What, Why & How of Positive Psychology' here.
Conservation Leadership Alumni Network
On Wednesday 3rd June the Conservation Leadership Alumni Network hosted a panel discussion on 'conservation and coronavirus', which was chaired by Chris Sandbrook, with Bill Adams as a panellist (along Christina Hicks, Bram Buscher and EJ Milner-Gulland).
It was great debate with questions from the alumni network who are all at the forefront of conservation across the globe.
The Conservation Leadership Alumni Network have also hosted, regional covid related alumni meetings on Zoom, from this they have created a survey you can find the results here. They are also planning on following up the regional calls with further covid themed meetings to see how we can support each other and be agents of change during this crisis.
You can watch the recording of the Conservation Leadership Alumni Network's panel discussion on 'conservation and coronavirus' here.
Oxford and Cambridge Society of San Diego
The Oxford and Cambridge Society of San Diego have been holding semi-annual Trivia Challenge Matches with Harvard and Yale for a few years now. At their last in-person match at the Shakespeare Pub and Grille on Wednesday, March 11th they saw the Harvard/Yale team win, for the second time in a row. In light of the current social -distancing mandate and the likelihood that they would not be able to meet in person for any of our usual events for some while, they decided to have another Trivia Challenge Match much sooner that we normally would, and this time to hold it "virtually".
On Thursday May 21st, as many as 80 OxBridge and Harvard/Yale alumni signed in to a Zoom meeting organized by their new President, John Newsam, (Lincoln College, Oxford) at 7.00pm.
Alex Moreno, (Cambridge and Harvard) who is alumni groups long-time Quizmaster explained the rules and asked the first of his frequently searching questions.  After some time setting up break-out sessions, so that each of the 10 teams, 5 each for OxBridge and Harvard/Yale, could confer, before their team captain sent in the teams answer via the Zoom Chat feature.
The quiz continued for about 2 hours, with a half-time break, with time to confer on the task of naming the ten most populated cities in the world (2 points for each correct answer and one point deducted for a wrong answer). See here for the answer. After a very closely fought contest, one of the Harvard/Yale teams, aptly named Crimson and Blue, emerged victorious, confirming the  Harvard/Yale supremacy, for now, with a third consecutive win.
The Oxford and Cambridge Society of San Diego, are planning a re-match soon you will be able to find out when by looking at their alumni group event page.