Virtual tour of the insect room at the Museum of Zoology
Virtual tour of the insect room at the Museum of Zoology
Saturday 25 September 2021,

3.00pm

to

3.50pm

BST
Saturday 25 September 2021,

3.00pm

to

3.50pm

BST
Get a peek behind the scenes at the Museum as we explore some of the highlights of the insect room, with beetles, butterflies and more. See specimens of historic importance and discover how insect collections are helping us to understand ecosystems today.
Following the tour, Matt Hayes will be online to take your questions.
Speakers
Matt Hayes (Christ's 2016)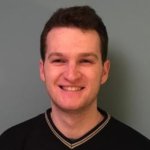 Matt Hayes is a research assistant at the University Museum of Zoology in Cambridge. He is interested in studying the ecology, behaviour and habitat requirements of invertebrates in the UK so that appropriate management can be implemented to maintain biodiversity on our fragmented reserves. Over the past few years he has worked with the Insect Ecology Research Group at the Zoology Department in Cambridge and the Wildlife Trust for Bedfordshire, Cambridgeshire and Northamptonshire to conserve endangered butterflies. More recently he has been looking at historical museum specimens, investigating how losses from the past can help guide conservation of the future.
Booking information
Booking for this event is now closed.