Virtual tour of the bird room at the Museum of Zoology
Virtual tour of the bird room at the Museum of Zoology
Saturday 25 September 2021,

11.00am

to

11.50am

BST
Saturday 25 September 2021,

11.00am

to

11.50am

BST
Join Dr Daniel Field, the new Curator of Birds at the Museum of Zoology, as he shares some of the treasures of the Museum's bird collection. From rare and extinct species to birds with fascinating tales to tell of evolution and environmental change.
Following the tour, Dr Field will be online to take your questions.
Speakers
Dr Daniel Field (Fellow of Christ's)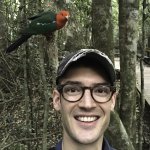 Daniel Field's research bridges the worlds of palaeontology as a lecturer in the Cambridge Earth Sciences Department, and evolutionary biology as the Strickland Curator of Ornithology at the University of Cambridge Museum of Zoology. He is fascinated by Earth's living bird diversity, and seeks to understand how modern birds evolved using the fossil record. Daniel's academic interests were sparked as a child growing up in Calgary, Canada, and since arriving at Cambridge in 2018 his lab has investigated bird evolution on a grand scale—covering over 150 million years of Earth's history. Daniel also holds a fellowship at Christ's College. 
Booking information
Booking for this event is now closed.