The Power of Giving Away Power
The Power of Giving Away Power
Monday 27 September 2021,

3.00pm

to

4.00pm

BST
Monday 27 September 2021,

3.00pm

to

4.00pm

BST
The Power of Giving Away Power: How do the best leaders learn to let go? A few rare leaders have learned to embrace a new organizational shape and mindset: Constellations. Organizations designed as constellations are dynamic and flexible networks of distinct yet interwoven individuals. These leaders did what most leaders dread – they gave away power.
Please follow this link to book:
https://us06web.zoom.us/webinar/register/WN_rJqHOe2fTaOgEBhJxCn07Q
This event is at 3pm BST.
Speakers
Matthew Barzun
Matthew Barzun has always been fascinated about how we can stand out and fit in at the same time. He helped countries do both when he served as US Ambassador to the United Kingdom and to Sweden. He helped citizens do both as National Finance Chair for Barack Obama by pioneering new ways for people to have a stronger voice in politics. And he helped tech consumers do both as an entrepreneur when he helped start CNET Networks in the early 90's. Barzun was raised on the East Coast, started his career on the West Coast, and settled in the middle in Louisville, Kentucky with his wife, Brooke, and their three children.
Allen Packwood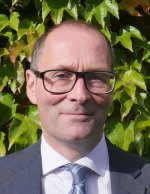 Allen Packwood is a Fellow of Churchill College at the University of Cambridge, the Director of the Churchill Archives Centre, and a Fellow of the Royal Historical Society. He was awarded an OBE for services to archives and scholarship in the 2016 Queen's Birthday Honours. Allen is a qualified archivist and has worked at the Churchill Archives Centre since September 1995, succeeding Dr. Piers Brendon as Acting Keeper in 2001, before being appointed Director in 2002. Allen was co-curator of Churchill and the Great Republic, a Library of Congress exhibition, which ran from February – July 2004, and of Churchill: The Power of Words, a display at the Morgan Library in New York from June till September 2012.