The magic of graphene: from basic science to manufacturing devices
The magic of graphene: from basic science to manufacturing devices
Saturday 25 September 2021,

2.00pm

to

3.00pm

BST
Saturday 25 September 2021,

2.00pm

to

3.00pm

BST
Graphene has been called a 'wonder material', which will change the world. But where are all the hi-tech graphene products? The problem lies in upscaling from amazing laboratory results using small flakes of graphene to manufacturing graphene devices. A Cambridge group in the Materials Science Department has invented a new way to make large-area, transfer-free graphene free from metallic contamination.
There will be an opportunity for you to ask questions at the end.
Speakers
Professor Sir Colin Humphreys CBE FRD FREng (Honorary Fellow of Churchill and Fellow of Selwyn)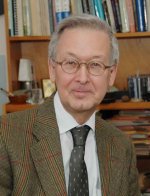 Colin Humphreys is a Fellow of the Royal Society and of the Royal Academy of Engineering. He was knighted in 2010 for services to science. He founded the Cambridge Centre for Gallium Nitride and set up two spin-off companies to exploit the research of his group on low-cost LEDs for home and office lighting and the Cambridge/Rolls-Royce Centre for Advanced Materials for Aerospace Engines. Materials developed there are now flying in Rolls-Royce engines. He recently co-founded a new company, Paragraf, to exploit research on graphene, which promises to revolutionise a wide range of products including sensors and electronic devices. 
Booking information
Booking for this event is now closed.