Seeing closer: revealing secrets of the cell with new imaging techniques
Seeing closer: revealing secrets of the cell with new imaging techniques
Friday 24 September 2021,

2.00pm

to

2.50pm

BST
Friday 24 September 2021,

2.00pm

to

2.50pm

BST
Gurdon Institute scientists Joseph Thottacherry and Edward Allgeyer have devised new ways to study cells and tissues in fruit flies, with applications in understanding disease. Ed's team have built a microscope to visualise structural molecules, while Joseph applies live imaging to watch cells in the lining of the intestine.
This session will include recorded film and presentations, followed by a live Q&A.

Speakers
Dr Joseph Jose Thottacherry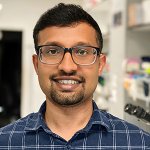 Joseph is a cell biologist using microscopy to understand how cells coordinate and work with each other in healthy tissues and how this could go wrong in disease. For his PhD he worked with world leaders in microscopy at the Tata Institute of Fundamental Research in India, exploring how physical forces regulate cellular behaviour. At the Gurdon Institute's St Johnston lab, Joseph is now studying how intestinal epithelial cells maintain their barrier function, especially when they die and are renewed.
Dr Edward Allgeyer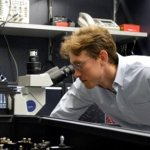 Wellcome Senior Research Associate
Booking information
Booking for this event is now closed.