Fast forward Cambridge 2022 with Cambridge Museum of Technology
Fast forward Cambridge 2022 with Cambridge Museum of Technology
Friday 23 September 2022, 12.00am BST

to

Sunday 25 September 2022, 12.00am BST
Friday 23 September 2022, 12.00am BST

to

Sunday 25 September 2022, 12.00am BST
This video is included in the Virtual Pass and will be available online from 23 September.
In 2021, the Cambridge Museum of Technology took the online Alumni Festival audience on an aerial odyssey around the city.

In this video, explore the rapidly-changing city in 2022 through a series of montages :
Soar above Parker's Piece and Queen's Green for panoramas of the collegiate centre
Explore new development at Cambridge North, Cambridge Business Park and Science Park
Cross the Chisholm Trail Bridge across the River Cam and follow Stourbridge Common to Cambridge Museum of Technology on Riverside
See how solar and wind renewable-energy generation is reshaping South Cambridge
Explore the changing landscape of West Cambridge with developments on Sidgwick Avenue, New Cavendish and Eddington campuses
About Cambridge Museum of Technology
The museum opened to the public in 1971 and was founded by students of Cambridge University and workers at local businesses. This independent museum, housed in a former Victorian pumping station on the banks of the River Cam, is the home of the city's industrial heritage. The museum features working steam engines from the pumping station and local manufacturing industries. It also has displays exhibits from Cambridge's brickworks and the Cambridge University & Town Gas Light Company.
A few of our permanent displays can be seen in the Pye Building which hosts the exhibition of the early high-tech companies that seeded "Silicon Fen" and the Print Room contains working printing presses from over 500 years of Cambridge printing heritage.
This video was created by a team of volunteers
Speakers
Dr Gordon Davies (Robinson 1991)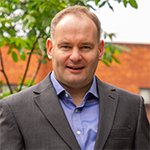 After completing doctoral research in history and archaeology, Gordon has spent over 20 years working in the technology industry. As a resident who lives on the site of the former gas works in Cambridge, Gordon has researched the 19th- and 20th-century history of the University & Town Gas-Light Company from sources including: Cambridgeshire Archives, Cambridgeshire Collection and the University Library Map Room. 
As a volunteer at Cambridge Museum of Technology, Gordon produces a webinar series that explores the industrial history and archaeology of the city. 
Location information:
If you would like to visit the Museum the opening hours are: Saturdays and Sundays: 10:30-16:00
Museum Location
Cambridge Museum of Technology
The Old Pumping Station
Cheddars Lane
Cambridge
CB5 8LD
United Kingdom
+44 (0) 1223 500 652