Cancer research: unexpected connections from culture dish to clinic
Cancer research: unexpected connections from culture dish to clinic
Friday 23 September 2022,

2.00pm

to

2.50pm

BST
Friday 23 September 2022,

2.00pm

to

2.50pm

BST
Dr Christopher Carnie and Inês Ferreira, two researchers from the Gurdon Institute describe projects that use specialised tissue culture and animal genetic models to explore some of the unanswered questions about cancer treatments. What makes cancer cells resistant to drugs? How does radiotherapy work at the cellular level?
Join Christopher and Inês online for their presentations plus a live Q&A.
Speakers
Dr Christopher Carnie
After completing his undergraduate studies at the University of Bath, Chris worked as a research technician in Canada for a year before starting a DPhil in the Sir William Dunn School of Pathology at the University of Oxford. Now a postdoctoral researcher in Steve Jackson's lab at the Gurdon Institute, he works at the interface of cancer biology and genomic instability. Throughout his career so far he has become particularly interested in the precise mechanisms by which cells repair damage to their DNA and how this can both help inform our understanding of human disease and pave the way for new therapeutic strategies to combat cancer.
Inês Ferreira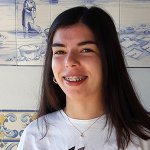 Inês completed her BSc in Biomedical Pharmacy and MSc in Applied Pharmacology at the University of Coimbra, Portugal. She then worked for two years as a Research Assistant at CEDOC/NMS in Lisbon before she moved to Cambridge to start her PhD at the Fernandez-Antoran Lab at the Gurdon Institute. Here she studies how somatic mutations accumulate in healthy epithelial tissues as a consequence of ageing and environmental agent exposure, and how this may link to cancer development. She is specifically interested in understanding how clones of mutant cells with different levels of fitness behave and compete in healthy and precancerous epithelium, and how these interactions can potentially be modulated to prevent the formation of carcinomas.