Cambridge Conversations — Achieving net zero: from ambition to action
Cambridge Conversations — Achieving net zero: from ambition to action
Tuesday 28 September 2021,

6.00pm

to

7.00pm

BST
Tuesday 28 September 2021,

6.00pm

to

7.00pm

BST
For the closing plenary of the Alumni Festival, we bring you the 11th event in the popular Cambridge Conversations series, which began in early 2020.
Vice-Chancellor Stephen J Toope will lead a discussion with Dr Emily Shuckburgh, Director of Cambridge Zero, Friend of COP26 and esteemed guests on the UN climate conference in Glasgow. They will explore what will make for a successful conference – what voices need to be heard– how is our understanding of climate risk changing – what is needed to envisage an inspiring net zer0 future.
There will be an opportunity to ask the panel your questions in a live Q&A following the discussion.
Speakers
Professor Stephen J Toope (Trinity 1983)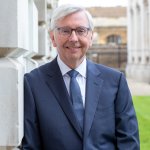 Professor Stephen J Toope OC, LL.D. is 346th Vice-Chancellor of the University of Cambridge, the first non-UK national to hold the post. He was Director of the Munk School of Global Affairs at the University of Toronto, and President, the University of British Columbia. A former Dean of Law, McGill University, Toope was also Chair of the United Nations Working Group on Enforced and Involuntary Disappearances.
Professor Toope publishes in global journals on human rights, international dispute resolution, international environmental law, the use of force, and international legal theory, and has lectured at universities around the world.
His current book project with Professor Jutta Brunnée explores mechanisms and processes fostering stability and change in international law.
Emily Shuckburgh OBE (Trinity 1994 and Fellow of Darwin)
Emily Shuckburgh is a climate scientist and mathematician based at the British Antarctic Survey (BAS). She leads the national research programme on the Southern Ocean and its role in climate, is deputy head of the Polar Oceans team and leads the data science group at BAS. She holds a number of positions at the University (Fellow of Darwin College, Fellow of the Cambridge Institute for Sustainability Leadership and Associate Fellow of the Centre for Science and Policy). In the past she has worked at l'Ecole normale supérieure in Paris and at MIT.
Emily is a fellow of the Royal Meteorological Society and co-chair of their climate science communications group. She has also acted as an advisor to the UK Government on behalf of the Natural Environment Research Council. In 2016 she was awarded an OBE for services to science and the public communication of science. She is co-author, with HRH The Prince of Wales and Tony Juniper, of the Ladybird Book on Climate Change.
Dr Linda Nkatha Gichuyia (Hughes Hall 2011)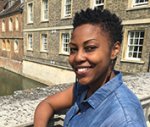 Dr Nkatha Gichuyia holds an MPhil in Environmental Design and a PhD in Architecture, both from the University of Cambridge in the UK. Before commencing her PhD, she worked in multiple architectural firms in Nairobi, and as a Tutorial Fellow at the University of Nairobi. She is currently a Lecturer at the Architecture and Building Science Department of the University of Nairobi, where she teaches Building Physics Masters courses as well as design and research Undergraduate courses of Architecture.
Dr Nkatha Gichuyia is deeply involved as well in drawing both Kenyan Government and International policy frameworks in her other various capacities as a knowledge broker, Architect, Public Servant, Researcher and urban development consultant.
Mr Alistair Phillips-Davies (St Catharine's College 1985)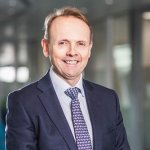 Alistair joined FTSE-100 utility SSE in 1997 and possesses a detailed knowledge of the energy sector having held a variety of senior roles within the Company. Prior to joining the Board in 2002 as Energy Supply Director, Alistair was Director of Corporate Finance and Business Development. In 2010, he became Generation and Supply Director, then Deputy Chief Executive in 2012, and finally Chief Executive in 2013. A former Vice President of Eurelectric, Alistair is currently a member of the Hydrogen Council, the Energy Transition Commission and the COP26 Business Leaders Coalition.
During his tenure as Chief Executive, Alistair has overseen SSE's strategic repositioning to focus on the delivery of the low-carbon electricity infrastructure required in the transition to net zero. This transition now sees SSE building more offshore wind than anyone else on the planet, including the world's largest offshore wind farm at Dogger Bank, as part of efforts to treble its renewables output by 2030. Last year, Alistair signed SSE up to the Race to Zero, committing the company to being net zero across its operations by 2050, backed by science-based targets. Under Alistair's leadership, SSE was among the first FTSE 100 companies to become a Living Wage Employer and the first to be accredited with the Fair Tax Mark. In November 2020, it became the first company in the world to publish a Just Transition strategy.
Booking information
Booking for this event is now closed.