Global Cambridge in Paris
Meet up with fellow alumni and immerse yourself in the University's world-leading research at Global Cambridge in Paris.
Saturday, 25 November 2017 -

2.30pm

to

6.00pm

CET
Scientific and technological advances are transforming our society in the 21st century. But as we race ahead, have we considered the impact of these changes on humanity? In areas ranging from artificial intelligence and the impact of social media on culture and society, to medical developments and the human body, new technologies bring with them profound questions that Cambridge is seeking to address.
On Saturday, 25 November meet with Cambridge alumni in the elegant Maison de la Chimie (7th arrondissement) and hear a panel of leading academics discuss these questions at our Global Cambridge event.
About the Global Cambridge series
This event is part of our Global Cambridge series, showcasing how Cambridge thinking continues to shape our world, trail-blazing the way to new discoveries and ideas. The series brings together alumni and supporters of the University to connect, engage and inspire. In 2017, we've visited Bristol, Edinburgh, Hong Kong, Düsseldorf, Leeds, Singapore, Melbourne and Sydney, with London, New York, Paris and San Francisco still to come.
Speakers
Professor Dame Athene Donald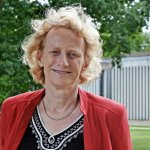 Dame Athene Donald (Girton 1971) is Master of Churchill College and was awarded both her BA (Natural Sciences and Theoretical Physics) and PhD (in Physics) by the University. After four years as a postdoctoral research associate in the USA at Cornell University, she returned to Cambridge, where she has been ever since. Initially holding an SRC fellowship in the Department of Materials Science and Metallurgy, she moved to the Cavendish Laboratory as one of the first generation of Royal Society University Research Fellows. Her research field can best be described as soft matter and biological physics, including polymers, biopolymers and, most recently, cellular biophysics.
She has served on a variety of committees at the Royal Society, chaired its Education Committee from 2010-14 and served on its Council from 2004-6 and again from 2011 to the present. She sits on the Scientific Council of the European Research Council and has been awarded prizes by the Institute of Physics (CV Boys Prize, Mott Medal and Faraday Medal). She was appointed a Dame Commander of the British Empire for Services to Physics in 2010.
Tim Lewens (Corpus Christi 1992) is Professor of Philosophy of Science in the Department of History and Philosophy of Science and a Fellow of Clare College.
His research interests include the philosophy of biology, the philosophy of science and biomedical ethics. Professor Lewens is a visiting researcher at the Fondation Maison des Sciences de l'Homme and at the Université Paris 1 Panthéon-Sorbonne. He was a member of the Nuffield Council on Bioethics from 2009 to 2015 and is the author of various books and academic articles. His publications include The Meaning of Science (Penguin, 2015), Risk: Philosophical Perspectives (Routledge, 2007), and Darwin (Routledge 2007), a philosophical study of Darwin and Darwinism.
From 2014 to 2017 Professor Lewens was Deputy Director of the Cambridge Centre for Research in the Arts, Social Sciences and Humanities (CRASSH).
Booking information
Location
Maison de la Chimie
Paris
75007
France