Virtual tour of the University Herbarium
Virtual tour of the University Herbarium
Thursday 17 September 2020,

2.00pm

to

3.00pm

BST
Thursday 17 September 2020,

2.00pm

to

3.00pm

BST
One of the largest and most historically and scientifically important herbaria in the country, and of international significance, the University Herbarium's Curator, Dr Lauren Gardiner, is working to bring the collection out of the shadows and making it accessible for researchers and the public for the 21st century. Join Dr Gardiner for a video tour of the collection taking viewers through the Herbarium, and giving an overview of its history and showing a few highlights from the collection – including Darwin specimens, unpublished botanical artwork, and material from the early 1700s.
Speakers
Dr Lauren Gardiner (Christ's 1999)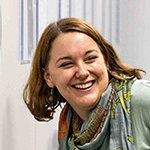 Dr Lauren Gardiner joined the University Herbarium in 2017, having previously completed her MA in Natural Sciences at University of Cambridge, MSc at University of Reading, PhD at the Royal Botanic Gardens Kew and University of East Anglia, and then 11 years on the staff at Kew. Lauren's research career has centred on plant systematics, conservation, and biodiversity data, with field experience around the world, including Madagascar, New Guinea, and the Himalayas. She has a particular specialism in the orchid family and sits on the RHS Orchid Committee. 
Booking information
Booking for this event is now closed.