To grow, or not to grow, that is the question
To grow, or not to grow, that is the question
Sunday 20 September 2020,

3.00pm

to

4.00pm

BST
Sunday 20 September 2020,

3.00pm

to

4.00pm

BST
Is the pursuit of economic growth a noble government objective, or is it the driving force behind global challenges from inequality to climate change? We'll confront arguments for growth and de-growth, exploring what is needed and what is feasible for a sustainable 21st century.
A recording of this session is now available to watch on YouTube.
Speakers
Dr Matthew Agarwala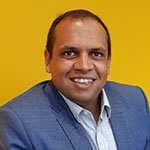 Matthew Agarwala is an economist interested in wealth-based approaches to measuring and delivering sustainability, wellbeing, and productivity. His research is motivated by the belief that 20th century statistics can't capture 21st century progress. Matthew leads the Bennett Institute's Wealth Economy project, which seeks to transform economic measurement to better reflect sustainability, inequality, and human wellbeing.  
Matthew regularly consults for governments and scientific organizations on topics of natural capital, ecosystem services, wellbeing, and sustainability. He enjoys working across sectors and disciplines, and his co-authors include ecologists, economists, conservation scientists and practitioners, social anthropologists, civil servants, members of UK Parliament, and Nobel Laureates in peace, medicine, physics, and chemistry. Beyond Cambridge, Matthew maintains active research networks in Canada, Hong Kong, Germany, USA, Japan, and throughout the UK. He is a regular media contributor (Bloomberg, NYTimes, FT, Guardian, Times, Channel 4 News). 
Booking information
Booking for this event is now closed.