The Whipple Museum - a live virtual tour of the history of science
The Whipple Museum - a live virtual tour of the history of science
Friday 24 September 2021,

12.00pm

to

12.50pm

BST
Friday 24 September 2021,

12.00pm

to

12.50pm

BST
Join Dr Joshua Nall for a tour through the Museum as he recounts its history and introduces some of the instruments, models, and globes from its world-class collection.
Following the tour, the audience will be able to put their questions to Dr Nall while highlighting a few unique artefacts live and up close.
Speakers
Dr Joshua Nall (Churchill 2006)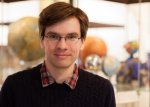 Dr Joshua Nall joined the Whipple Museum in 2013 having previously completed his MPhil and PhD in Cambridge HPS. His research focuses on mass media and material culture of the physical sciences after 1800. He has curated a variety of exhibitions and displays, including on globes, astronomy and empire, and most recently, the Museum's 75th anniversary special exhibition. 
Booking information
Booking for this event is now closed.