The Mountbatten: their lives and loves
The Mountbatten: their lives and loves
Tuesday 22 September 2020,

3.30pm

to

4.30pm

BST
Tuesday 22 September 2020,

3.30pm

to

4.30pm

BST
Based on his Sunday Times bestseller, Andrew Lownie gives an enthralling portrait of the private – they had an open marriage and many affairs – and public lives of Dickie and Edwina Mountbatten covering their wartime careers, period as Viceroy & Vicereine of India and links to Royal Family.
A recording of this session is available to watch on YouTube
Speakers
Mr Andrew Lownie (Magdalene 1981)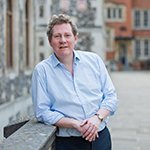 Andrew Lownie read history at Magdalene, where he was President of the Union, before going on to take a Masters and Doctorate at Edinburgh University and returning to Cambridge as a bye-fellow at Churchill College. 
His books include biographies of the writer John Buchan, spy Guy Burgess, and the forthcoming 'After the Abdication: The Duke and Duchess of Windsor in Exile.'
A Fellow of the Royal Historical Society, he is President of the Biographers Club, a trustee of the Campaign for Freedom of Information and since 1988 has run his own literary agency.
 
Booking information
Booking for this event is now closed.