The Christian invention of time
The Christian invention of time
Saturday 25 September 2021,

6.30pm

to

7.20pm

BST
Saturday 25 September 2021,

6.30pm

to

7.20pm

BST
This session looks at the first great revolution in thinking about and experiencing time: how we inhabit time was fundamentally altered by the gradual development of Christianity in the Roman Empire. This transformation changed the Greek and Roman notions and practices of temporality, and gave us not just the week, but new ways to understand waiting, suddenness, eternity, simultaneity and so forth. The session will explore some of the ways that our world is still ordered by this revolution.
Speakers
Professor Simon Goldhill (King's 1975 and Fellow of King's)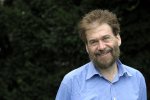 Simon Goldhill is Professor of Greek at the University of Cambridge and Foreign Secretary of the British Academy. His books have been translated into ten languages and won three international prizes. He has lectured and broadcast all over the world. 
Booking information
Booking for this event is now closed.