Tackling the global epidemic of non-communicable diseases
Tackling the global epidemic of non-communicable diseases
Wednesday 23 September 2020,

6.30pm

to

7.30pm

BST
Wednesday 23 September 2020,

6.30pm

to

7.30pm

BST
In conversation with Dr Tolullah Oni, Professor Nick Wareham, Director of the MRC Epidemiology Unit and the NIHR Global Diet and Activity research group, will discuss the causes of the global epidemic of non-communicable diseases including type 2 diabetes and strategies for prevention.
Speakers
Professor Nick Wareham (Gonville & Caius 1993)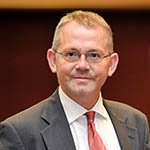 Professor Nick Wareham is the Director of the MRC Epidemiology Unit, Co-Director of the Institute of Metabolic Science, Honorary Consultant at Addenbrooke's Hospital and Professor of Epidemiology at the University of Cambridge, England.  He studied Medicine at St Thomas' Hospital Medical School and Epidemiology at both the London School of Hygiene and Tropical Medicine and Cambridge University, England.   After research fellowships at Harvard and Cambridge University, he took up the Directorship of the MRC Epidemiology Unit when it was founded in 2003.  His principal research interests are in understanding the aetiology of type 2 diabetes and in developing strategies for prevention and early detection.  These preventive approaches include individual and societal level interventions. He is the Director of the UKCRC Centre for Diet and Activity Research (CEDAR) and the NIHR Global Health Group on Diet and Activity Research (GDAR).
Dr Tolullah Oni
Tolullah Oni is a Public Health Physician Scientist and urban epidemiologist, and a Clinical Senior Research fellow with the Unit's Global Public Health Research programme.
She completed her medical training at University College London, postgraduate medical training in the UK and Australia, a Masters in Public Health (Epidemiology) at the University of Cape Town, and her research doctorate in Clinical Epidemiology at Imperial College London. She spent 11 years conducting research in South Africa, where she also completed her public health medical specialty training. There, she established a Research Initiative for Cities Health and Equity (RICHE), conducting transdisciplinary urban health research focused on generating evidence to support development and implementation of healthy public policies in rapidly growing cities, with a focus on Africa. Research activities include Systems for Health projects: investigating how urban systems (e.g. housing, food) can be harnessed for health; and Health Systems projects: integrated heath systems responses to changing patterns of disease and multimorbidity in the context of urbanisation. She continues this focus within the GDAR network, focusing on meso- and macro-level determinants of diet and physical activity.
Dr Oni is a Fellow of Wolfson College.
Booking information
Booking for this event is now closed.