Religion in three continents
Religion in three continents
Friday 23 September 2022,

2.00pm

to

3.00pm

BST
Friday 23 September 2022,

2.00pm

to

3.00pm

BST
Study of a given religious group often entails thinking about community boundaries. This panel event brings together academics who study aspects of Jewish life and identity—in different settings and using diverse methods—to reflect on their work and its inter-religious implications.
Dr Vanessa Paloma Elbaz, herself of Moroccan Jewish descent, has spent 15 years gathering, recording and archiving the musical heritage of Morocco's dwindling Jewish community. The results show how the community, and Moroccan Jewish women in particular, have used song for identity formation, conserving centuries-old folk music learned in Spain pre-exile.
Dr Anastasia Badder joined the University of Cambridge this summer, relocating from Luxembourg where she has spent time observing and analysing interaction between two religiously distinct Jewish communities and non-Jewish residents. She has also spent time studying Jewish communities in New Zealand.
During three terms of sabbatical, Dr Daniel Weiss is reinvestigating evidence about early rabbinic attitudes to the Jesus movement and Christianity. The work draws on his skills as a scholar of philosophy and texts and is supported by a Humboldt Research Fellowship. He is currently collaborating with researchers at the University of Tübingen, Germany, and joins the online panel from there.
This session will be chaired by Dr Giles Waller, Research Associate with Cambridge Interfaith Programme and the convenor of the University of Cambridge's Inter-religious relations seminar.
For more information about Cambridge Interfaith Programme, its research and outreach, visit www.interfaith.cam.ac.uk.
Speakers
Dr Giles Waller
Dr Giles Waller is a research and teaching associate in the Faculty of Divinity. He convenes a regular seminar on Inter-religious relations and is part of the core team for Cambridge Interfaith Programme.
Dr Vanessa Paloma Elbaz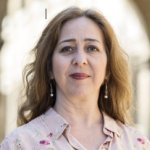 Dr Vanessa Paloma Elbaz is a research associate in the Faculty of Music. She founded KHOYA: Jewish Morocco Sound Archive, to collect, digitise, and analyse contemporary and historical recordings.
Dr Anastasia Badder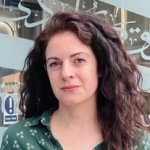 Dr Anastasia Badder is a research associate in the Faculty of Divinity. Her work ethnographically explores contemporary Jewish lives and languages in Europe.
Dr Daniel Weiss (Fellow of Darwin College)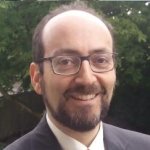 Daniel H. Weiss is Polonsky-Coexist Senior Lecturer in Jewish Studies (Faculty of Divinity), co-lead of the Scripture and Violence Project, and author of Modern Jewish Philosophy and the Politics of Divine Violence (Cambridge University Press, 2023).