Radiogenomics for virtual biopsy and treatment monitoring in ovarian cancer
Radiogenomics for virtual biopsy and treatment monitoring in ovarian cancer
Monday 27 September 2021,

8.00pm

to

8.50pm

BST
Monday 27 September 2021,

8.00pm

to

8.50pm

BST
The large-scale study of quantitative features extracted from routine medical images has been shown to provide valuable prognostic information across cancer types. We are developing new techniques to improve the integration of those features with the underlying cellular and molecular data to provide a full, multi-scale, "radiogenomic" description of the disease.
Join Dr Mireia Crispin, Professor Evis Sala (St John's 1996) and Dr Ramona Woitek as they discuss the new developments in radiogenomics. Following the discussion, there will be an opportunity to ask your questions.
Speakers
Dr Mireia Crispin
Dr Mireia Crispin is a Lecturer in the Department of Oncology of the University of Cambridge. She co-leads the Computational Group of the Mark Foundation Institute for Integrated Cancer Medicine at Cambridge, focusing on the development of data integration models to understand the response to cancer therapies. She previously worked at Memorial Sloan Kettering Cancer Center in New York. Until recently, she was the Director of the Healthcare Innovation programme of the Center for the Governance of Change at IE University (Madrid, Spain) which studies the policy challenges for integrating AI and digital health in European healthcare.  
Mireia holds a PhD in Particle Physics from the University of Oxford, where she worked on data analysis methods for the search for dark matter at the Large Hadron Collider at CERN. She is an author in over 400 publications and has received numerous national and international awards for the academic, entrepreneurial and outreach aspects of her work. 
Professor Evis Sala (St John's 1996)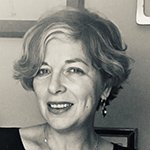 Evis Sala is the Professor of Oncological Imaging at the University of Cambridge, United Kingdom (UK) and co-leads the Cancer Research UK Cambridge Centre Advanced Cancer Imaging Programme and the Integrated Cancer Medicine Programme. Dr Sala's research focuses on the development and validation of functional imaging biomarkers to rapidly evaluate treatment response using physiologic and metabolic tumour habitat imaging. Her research in radiogenomics has focused on understanding the molecular basis of cancer by demonstrating the phenotypic patterns that occur as a result of multiple genetic alterations that interact with the tumour microenvironment to drive the disease in several tumour types. Her work integrates quantitative imaging methods for evaluation spatial and temporal tumour heterogeneity with genomics, proteomics and metabolomics. She is also leading multiple research projects focusing on developing and implementing artificial intelligence methods for image reconstruction, segmentation, and data integration. Dr Sala is an outstanding educator, orator and mentor. In recognition for her contribution to education and research in oncological imaging, she received the Radiology Society of North America (RSNA) Honoured Educator Award in 2014, 2017 and 2020. Her leadership extends to the most important international bodies in the field, as Fellow of the International Cancer Imaging Society, Fellow of the International Society for Magnetic Resonance in Medicine and Fellow of the European Society of Urogenital Radiology. 
Dr Ramona Woitek
Dr Ramona Woitek is a Senior Research Associate and Honorary Consultant Radiologist in the Department of Radiology of the University of Cambridge. Her research focuses on breast and ovarian cancer, with a special focus on new imaging techniques and image analysis for the early detection of treatment response. Ramona did her undergraduate studies, PhD and Radiology training at the Medical University of Vienna, Austria, and joined the University of Cambridge in 2017. 
Booking information
Booking for this event is now closed.