Men giving birth, children with three parents, and other future family law problems
Men giving birth, children with three parents, and other future family law problems
Friday 18 September 2020,

6.30pm

to

7.30pm

BST
Friday 18 September 2020,

6.30pm

to

7.30pm

BST
Family law for a long time was only centred on one particular family unit: a man and a woman united in (indissoluble) marriage, and with children. But we now live in a world where marriages often end in divorce; where categories of gender are not as fixed as they used to be and men can give birth to children; where children are not necessarily genetically related to their birthparents or indeed may have three genetic parents, and even more social parents. The law has been to slow to react to societal changes and medical advances, and these issues need to be dealt with as a matter of urgency.
A recording of this session is now available to watch on YouTube.
Speakers
Professor Jens Scherpe (Fellow of Gonville and Caius)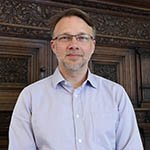 Jens is a Professor of Comparative Law and Director of International Strategy and Partnerships at the University of Cambridge, where he also is the Director of Cambridge Family Law. He also is a Director of Studies at and Fellow of Gonville and Caius College (Cambridge), Cheng Yu Tung Visiting Professor at the University of Hong Kong, Honorary Professor at the University of Aalborg and Extraordinary Professor at the University of the Western Cape in South Africa. He also is an Honorary Fellow of St. John's College/Hong Kong and an Academic Door Tenant at Queen Elizabeth Building, London. Jens has held visiting positions in Sydney, Auckland, London, Vienna, Leuven, Barcelona, Padua, Louvain-la-Neuve and Melbourne.
His publications include major comparative studies on the legal status of transgender and transsexual persons (2004 and 2015) and the legal status of intersex persons (2018), as well as on cohabitation (2005), same-sex relationships (2000), matrimonial property and marital agreements (2012), registered partnerships (2017) and on 'Eastern and Western Perspectives on Surrogacy' (2019). In 2016 he also edited a four-volume book set on European Family Law, including a monograph on 'The Present and Future of European Family Law'.
Booking information
Booking for this event is now closed.