Making (gravitational) waves
Making (gravitational) waves
Friday 23 September 2022,

3.30pm

to

4.30pm

BST
Friday 23 September 2022,

3.30pm

to

4.30pm

BST
Black holes are one of the most striking predictions of Einstein's theory of General Relativity. While we cannot look inside them, one way we can "see" them is by detecting the gravitational waves they emit while shaking off any perturbations caused by other objects. In this talk, we will review how tools from Analysis and Geometry can help us understand this process, and shed some light into black holes.
Speakers
Dr Rita Teixeira da Costa (Trinity College 2016)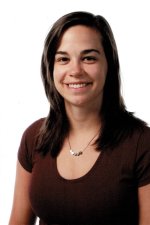 Rita is a mathematician working on Einstein's theory of General Relativity. After a PhD from Cambridge in 2021, she now splits her time between the Princeton Gravity Initiative in the US and the Center for Mathematical Sciences at Cambridge.