Kettle's Yard: a space, an ambience, a home
Kettle's Yard: a space, an ambience, a home
Tuesday 28 September 2021,

12.00pm

to

12.50pm

BST
Tuesday 28 September 2021,

12.00pm

to

12.50pm

BST
Director Andrew Nairne OBE explores the unique role of Kettle's Yard within the University.
There will be the opportunity to ask questions at the end.
Speakers
Andrew Nairne OBE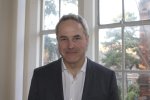 Andrew Nairne has been Director of Kettle's Yard, University of Cambridge, since 2011. He is a former Director of Dundee Contemporary Arts and Modern Art Oxford. He has worked with numerous UK and international artists. In the 1980s and 1990s, as a curator in Glasgow, he organised exhibitions with artists from Eastern Europe and supported the rise of a new generation of British artists. 
Andrew Nairne led the £11m redevelopment of Kettle's Yard, which reopened in February 2018. Recent exhibitions have included Antony Gormley SUBJECT, Julie Mehretu: Drawings and Monotypes, and Alfred Wallis Rediscovered. 
Booking information
Booking for this event is now closed.