Industrial agriculture and the crisis of extinction
Industrial agriculture and the crisis of extinction
Saturday 25 September 2021,

11.00am

to

11.50am

BST
Saturday 25 September 2021,

11.00am

to

11.50am

BST
Today many people worry that we're losing genetic diversity in the foods we eat. Over the past century, crop varieties standardised for industrial agriculture have increasingly dominated farm fields. Concerned about what this means for the future of food, scientists, farmers, and eaters have sought for decades to protect crops they consider endangered. In this lecture, historian Dr Helen Anne Curry explores the stories and strategies adopted by scientists, states, and citizens as they have sought to forestall this extinction crisis.
Following her lecture, Dr Helen Anne Curry will take questions from the audience, which will be facilitated by Dr Andrew Buskell, Leverhulme Early Career Researcher at the Department of History and Philosophy of Science.
Speakers
Dr Helen Anne Curry (Fellow of Churchill)
Dr Andrew Buskell (Clare 2012)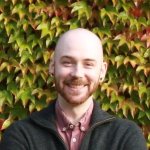 Andrew is a Leverhulme Early Career Researcher and a College Research Associate at St John's College. Having completed his PhD in the Department of History and Philosophy of Science in 2016, he rejoined the department in 2017 after a postdoctoral position at the London School of Economics and Political Science. His doctoral work, on cultural evolution, won Clare Hall's Salje Medal for best dissertation in the Arts and Social Sciences. His current research analyses issues where human cognition, culture, politics, and biology intersect—with recent work examining the metaphysical and epistemic assumptions underwriting cross-cultural comparison
Booking information
Booking for this event is now closed.