How Institute for Manufacturing students helped the NHS through COVID-19
How Institute for Manufacturing students helped the NHS through COVID-19
Friday 18 September 2020,

2.00pm

to

3.00pm

BST
Friday 18 September 2020,

2.00pm

to

3.00pm

BST
Three teams of students from the MPhil in Industrial Systems, Manufacture and Management course at the Institute for Manufacturing have been working with the NHS on issues testing, oxygen supply and modelling around the COVID-19 outbreak. In this session they will share their unique experience and how they applied their engineering knowledge to assist the hospital in the response to the pandemic.

Joined by their course director, Dr Florian Urmetzer, the students will discuss how they helped with oxygen distribution, setting up staff testing and analysis of capabilities within the hospital, as well as how their education at Cambridge shaped their approach to these challenges.
Students joining Dr Urmetzer:
Jack Levy
George Melman
Carl Von Behr
Oliver Lambson
David Cordova Jimenez, Wolfson
Nisha Samad, Wolfson
Kaya Dreesbeimdiek
Moritz Meyer zu Köcker
A recording of this session is now available to watch on YouTube.
Speakers
Dr Florian Urmetzer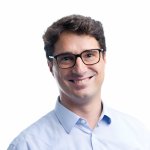 Dr Florian Urmetzer is Executive Course Director at the IfM and a member of the faculty in the Deptarment of Engineering. In Research, Florian is interested in the development of tools for management research. In detail, he is looking at the creation and capture of value within complex business ecosystems.
He is the Executive Course Director of the MPhil ISMM (www.ifm.eng.cam.ac.uk/education/ismm) where students mainly with an engineering or technical background are equipped with the skills, personal development and industrial experience needed to be immediately effective in their early careers in industry. This includes multiple industry projects, firm visits and their analysis as well as theory lectures and a research based masters thesis.
Booking information
Booking for this event is now closed.