Electronics on the brain
Electronics on the brain
Wednesday 23 September 2020,

12.30pm

to

1.30pm

BST
Wednesday 23 September 2020,

12.30pm

to

1.30pm

BST
Interfacing microelectronics with the human brain will deliver new tools for the diagnosis and treatment of neurological disorders. Professor George Malliaras will show how recent advances in electronic materials are translated to devices that record and stimulate brain activity with unprecedented precision and provide new ways to minimise the invasiveness of neurosurgery.
Speakers
Professor George Malliaras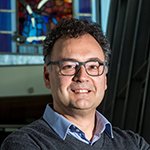 George Malliaras is the Prince Philip Professor of Technology at the University of Cambridge. He received a PhD from the University of Groningen and did a postdoc at the IBM Almaden Research Center. Before joining Cambridge, he was a faculty member at Ecole des Mines de St. Etienne and at Cornell University and served as the Director of the Cornell NanoScale Facility. His research has been recognized with awards from the New York Academy of Sciences, the US National Science Foundation, and DuPont. He is a Fellow of the Materials Research Society and of the Royal Society of Chemistry.
Booking information
Booking for this event is now closed.