Dialogue, educational technology and learning
Dialogue, educational technology and learning
Tuesday 22 September 2020,

2.00pm

to

2.45pm

BST
Tuesday 22 September 2020,

2.00pm

to

2.45pm

BST
Join Dr Sara Hennessy to discover how effective, interactive uses of educational technology and high-quality classroom dialogue can support student learning.
Speakers
Dr Sara Hennessy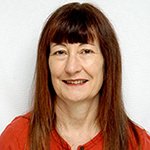 Dr Sara Hennessy is a Fellow of Hughes Hall, Reader in Teacher Development and Pedagogical Innovation at the Faculty of Education, and co-founder of the interdisciplinary Cambridge Educational Dialogue Research Group. Her research focuses on classroom dialogue; digital educational technology use, including in low-income countries and teacher professional development. 
Booking information
Booking for this event is now closed.