Bringing together computer and forest science for a better world
Bringing together computer and forest science for a better world
Thursday 24 September 2020,

6.30pm

to

8.00pm

BST
Thursday 24 September 2020,

6.30pm

to

8.00pm

BST
Image courtesy of coomeslab.org
Image courtesy of coomeslab.org
Forest conservation and restoration are critical not just for preserving biodiversity but also for bulk carbon sequestration. In this session, Professor David Coomes and Professor Srinivasan Keshav will touch upon some examples where recent advances in computer science, including IoT, AI, big data, and blockchains can be used to solve real problems in the area of forest conservation and restoration.
Speakers
Professor David Coomes (Churchill 1986)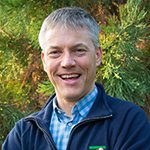 Professor David Coomes is Director of the University of Cambridge Conservation Research Institute and Head of the Forest Ecology and Conservation Group in the Department of Plant Sciences. 
Conserving the world's dwindling biological diversity is one of the most pressing issues facing mankind. The Forest Ecology and Conservation Group is actively engaged in addressing these issues, as well as tackling more fundamental ecological questions.
His research aim is to gain a greater understanding of the ways that forests are changing, and the reasons for these changes. Focusing on forest conservation and ecology, his research uses large databases and modern computational approaches, alongside traditional field approaches.
Professor Srinivasan Keshav
Professor Srinivasan Keshav is the Robert Sansom Professor of Computer Science in the Department of Computer Science and Technology at the University of Cambridge. He is a Fellow of the Royal Society of Canada, ACM, and IEEE. 
Although he started out as a researcher in computer networking, since 2010 his focus has been on reducing the carbon footprint of energy generation, transportation, and buildings. For the past couple of years, he also worked on improving the performance of blockchains so that that they can be used as the foundation for energy systems, such as for transactive energy and renewable energy certificates. He recently turned his attention to the carbon sequestration and biodiversity potential of forests, looking at both conservation and restoration.
Booking information
Booking for this event is now closed.