Bringing magnetic resonance imaging (MRI) to the nanoscale using quantum sensing
Bringing magnetic resonance imaging (MRI) to the nanoscale using quantum sensing
Thursday 17 September 2020,

3.00pm

to

4.00pm

BST
Thursday 17 September 2020,

3.00pm

to

4.00pm

BST
MRI helps diagnose medical conditions non-invasively by detecting weak magnetic signals originating from hydrogen atoms in the body. Dr Helena Knowles will set out how the tools of quantum optics allow us to extend this approach to the realm of single molecules and single particles.
A recording of this session is now available to view on YouTube.
Speakers
Dr Helena Knowles (St John's 2011)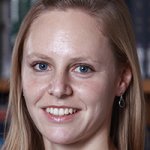 Helena Knowles is a University Lecturer and a Royal Society Research Fellow. Her research focuses on quantum control and quantum imaging at the nanometer scale.
In 2014 she was awarded a Research Fellowship at St John's College, Cambridge, where she led a team of students working on using quantum optics tools and defects in diamond to perform nanoscale NMR experiments in biological and solid-state systems. She then moved to Harvard in 2017 to work as a Research Associate on investigating single-atom thin materials using defects in diamond. Helena holds an MSc from ETH Zurich and a PhD from the University of Cambridge.
Booking information
Booking for this event is now closed.